Tickets are now available for the John James Audubon Center at Mill Grove​​

Vision. We approached this project holistically. We understand the importance of honoring Mill Grove's unique history, protecting the existing structures, and providing state of the art collections management facilities while meeting the expectations of modern museum audiences. The John James Audubon Center will join Valley Forge National Park and Longwood Gardens as one of the region's premier cultural destinations.
Capital Campaign. We are delighted that most of the $16 million campaign goal has already been raised thanks to early investments from Montgomery County, the Commonwealth of Pennsylvania, and dozens of generous individual and foundation supporters. Achieving our goal will ensure all aspects of the project are fully funded including renovations, construction, exhibits, endowment, and educational programming. We are currently seeking $1.5 million to support the many exciting exhibits.
Museum Exhibits. Here is a sample of what visitors will see inside: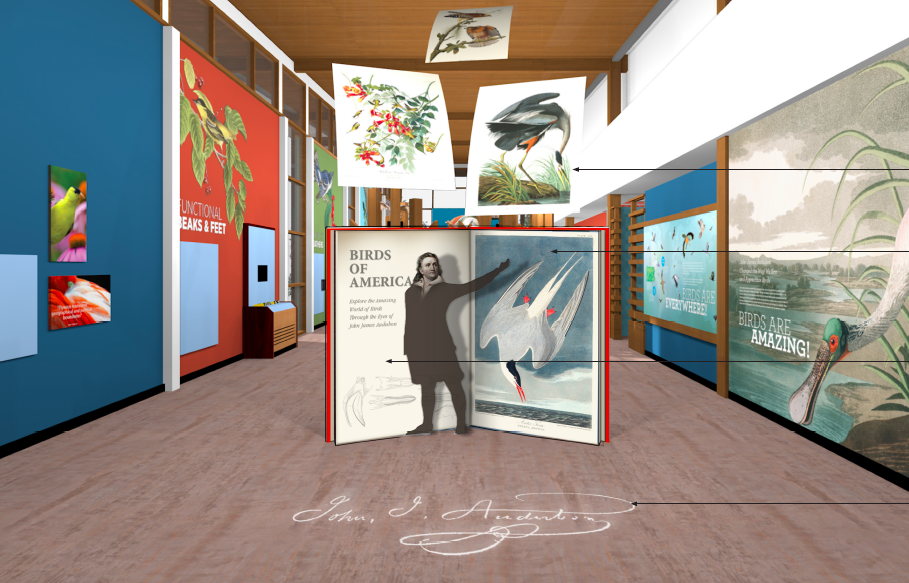 • WOW Birds! Gallery: Birds are amazing! Their beauty, variety, sounds and songs, graceful flight and presence around the globe are astonishing and inspirational.
• Bird Banding: Learn how John James Audubon used a silver thread on an Eastern Phoebe bird and why this is still relevant today as we learn and research bird migration.
• Sound Forests: Experience bird songs in different habitats: forests, coastal areas, wetlands, grasslands and cities.
• Feathers: Take a close look at feathers - how they feel, reflect light and help birds fly.
• Eggs and Nests: Step inside various size nests and learn why not all eggs are shaped the same.
• Flight: How do birds' wings work and view a digital flyway map.
• Conservation Gallery: Learn about why conservation became a driving force to protect birds today. A major portion of this exhibit will feature the return of Puffins to the coast of Maine after almost being extinct in this area.
• Theater: A short movie depicting the life and journey of John James Audubon will be featured and played through out the day. Other short conservation films will also be shown at various intervals.
• John James Audubon Art Gallery: View original Audubon prints, including the Double Elephant Folio of Birds of America and the Viviparous Quadrupeds of North America. A life size digital version of the Birds of America will allow for hands on learning about each species featured.
Outdoor Features. Enjoy unique new outside attractions.
Pawlings Porch: Bird watch over a wildflower meadow and learn more about the birds and native plants in our area.
Fledgling Trail: Children of all ages will enjoy mimicking the life stages of a young bird from egg to first flight. A sensory garden, water features, accessible play apparatus and benches to relax and enjoy nature will entice all to visit again and again.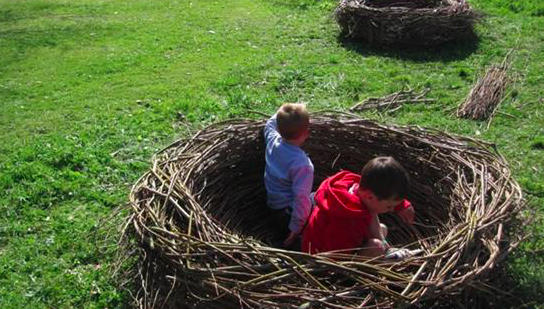 If you would like to receive updates or find out how to support a specific aspect of the new Center, please email Wendy Christie.
The Architects:
Kimmel Bogrette Architecture + Site

Since 1995, Principals Jim Bogrette and Martin Kimmel bring with them more than 50 years of combined experience in helping clients to fulfill their missions by transforming their unique needs into reality. Kimmel Bogrette has become a well-respected, award-winning design firm by combining experience, expectations and excellence that starts with the principals and is passed down through the firm and on to our clients.
With headquarters in Conshohocken, PA, Kimmel Bogrette has expanded recently to a firm size of 20. Clients can be found throughout the region and as far away as Florida and Texas and include municipalities, educational institutions, nonprofit organizations, religious institutions, corporations, retailers, private developers, the medical profession, senior healthcare providers/developers and private individuals.
The Exhibit Designers:
Gecko Group
Based in West Chester, PA, Gecko Group is a communications design firm whose experience and expertise includes everything from A (for aquariums) to Z (for zoos). Their approach is creative and collaborative. Their wide range of services includes identity design and branding; exhibit development, design and implementation; hands-on interactives; environmental design; and marketing.
The new John James Audubon Center for Art and Conservation wil be equally exciting inside and out. We are very grateful to Montgomery County and its commissioners, and all our supporters who have been a part of this huge project and without whom the Center would not be possible. Thank you one and all!