Get Involved
Friends of a Feather
2018 Celebration at Mill Grove, Thursday, May 17, 2018, 5:00 - 8:00 pm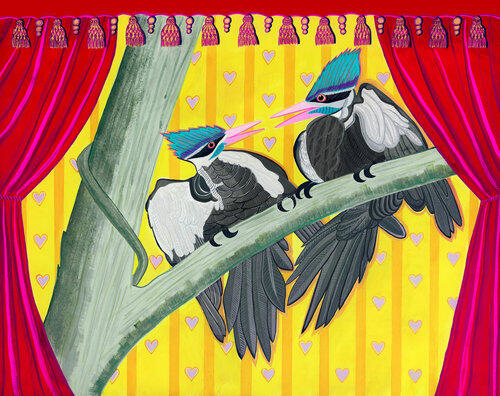 ©Ann Chahbandour "Beyond Audubon, Pileated Woodpeckers"
PLEASE JOIN US!
FRIENDS OF A FEATHER GALA FUNDRAISER
John James Audubon Center at Mill Grove
Historic Barn and Pavilion
1201 Pawlings Road, Audubon, PA 19403
Check back soon for more details, including sponsorship and ticket information.

Friends of a Feather 2018 celebrates these recipients:
Legacy Awardee - Penelope P. Wilson
Ms. Wilson has generously supported the work of Audubon PA for many years with special focus on the historic site and the new Mill Grove visitor center and museum opening in 2019.

Art Inspiring Conservation Awardee - Ann Chahbandour
Ms. Chahbandour's artistic commitment to wildlife has resulted in a new series, "Beyond Audubon - The Art of Ann Chahbandour," which reinterprets the work of naturalist John James Audubon, presenting a fresh narrative for contemporary audiences. Her paintings and sculptures will be on exhibit in the Historic House museum.
All proceeds will benefit conservation education programs for disadvantaged students.
For more information contact Ruth Cella at rcella@audubon.org