About
Live Birds at Mill Grove
Visit our 5 live owls, 1 Bluejay and our chickens in their outdoor aviary while walking the site! 
Non-Releasable Bird Program
Our regal and beautiful birds have each suffered a permanent injury (physical or mental) that makes them unable to survive in the wild, where even a seemingly small injury spells the difference between predatory dominance and certain death.
As avian ambassadors these non-releasable wild birds have been trained to help educate people about their natural history and issues facing birds today. They visit schools, scouts, businesses, fairs/festivals, conferences, and many other special events. Up close experiences with our birds can inspire youth and adults alike to take further actions in conservation and citizen science.
____________________________________________________________________
Conrad is a 3-year-old Blue Jay that came to Mill Grove from Tri-State Area Rescue. He was taken out of his nest as a fledgling and raised illegally in captivity. Due to this experience, Conrad is imprinted which hinders him from finding food on his own or knowing how to socialize with other birds. He has an extremely friendly temperament and loves being around people.
Meet little Conrad's Aunt Helena
Although I live in New Jersey, I have been on assignment to a firm close to Mill Grove and have delighted in exploring the trails and non-releasable birds during my lunch hour. Conrad, in particular, has captured my heart and I am so grateful to the staff for their service to these noble creatures and the beautiful estate. ~Aunt Helena
____________________________________________________________________
Chicken Enrichment
Meet Coconut and Sunshine at Mill Grove. They are our educational chickens who live right behind the cottage. We are training them with specially designed Positive Reinforcement Training which is helping our chickens discriminate colors. This training will enable the children to understand how chickens can be trained like pets at our homes. The trained chickens will be a great way for children to have a more personal interaction with them. Birds that the members of the Corvid family are also trainable. Just like our BlueJay Conrad, who also lives behind the cottage.
Our very wonderful volunteers are making this happen. They provide hands-on experience for our students here on the property and off-site at schools.
____________________________________________________________________
Oden is a 10-year-old, male Great Horned Owl that was raised in captivity. He became imprinted upon humans and, because he no longer fears us, he cannot be released to live on his own. He was placed into a wildlife rehabilitation program to act as a foster father raising three owlets that were then returned to the wild. While in the rehab program, he was also reconditioned to serve as an educational ambassador.

Help support our owls! Please send donations to:
John James Audubon Center at Mill Grove
attn: Owls
1201 Pawlings Road, Audubon, PA 19403
____________________________________________________________________
Luna is a 3-year-old, female Great Horned Owl that fell out of her nest when she was an owlet. She was rescued and after further examination, they found she has no vision on the periphery of her eyes.
____________________________________________________________________
Both Sam and Scooter both were hit by cars on separate occasions resulting in being blind in opposite eyes. Sam is our 11-year-old male and Scooter is our 7-year-old female. They live together in one enclosure. Oscar is our newest Eastern Screech owl. She is about 9 years old and has just moved here from West Virginia and has become great friends with her two roommates.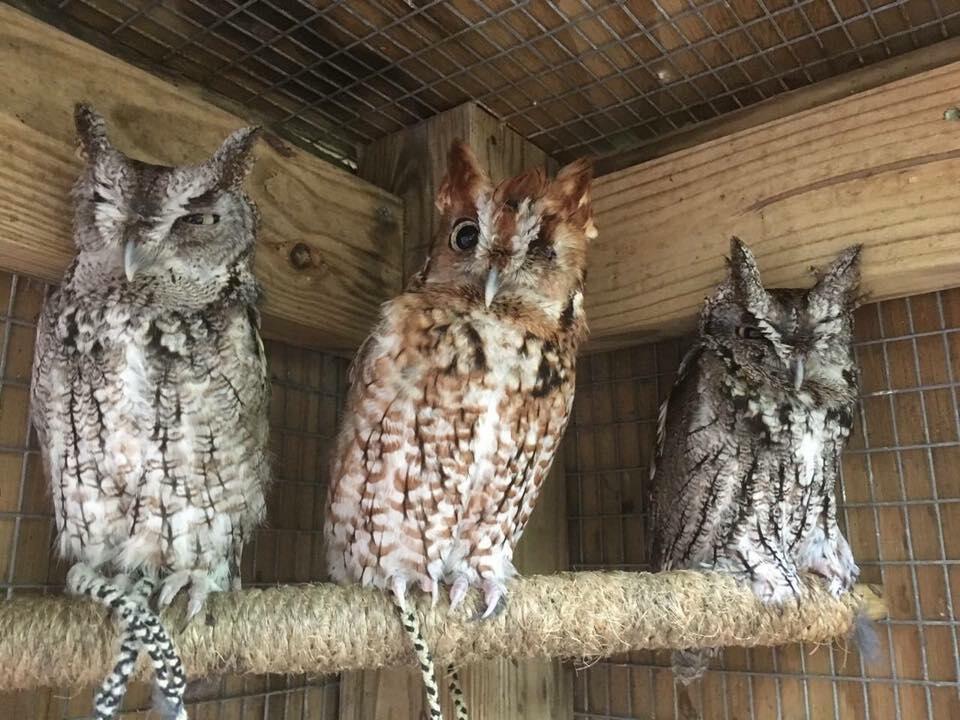 Sammy, Scooter, and Oscar